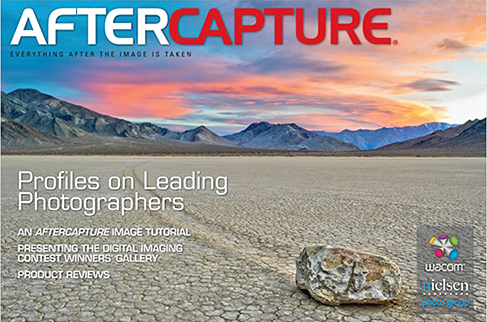 A few days ago I had a chance to read through the newest edition of AfterCapture magazine. I was extremely impressed by the overall content and the many fantastic before and after images from their 2012 AfterCapture Digital Imaging Contest, sponsored by Wacom. It's rare to have an opportunity to see how photographs go from "Raw" to a finished image, and I found the issue very inspiring. If you do any post-processing of your images, I highly recommend taking a look. It's free to view online from this page.
The PDN PhotoPlus Expo is returning to New York City from 10/24-10/27/2012. I've been attending the show for about the last 20 years, and it has, without a doubt, helped shape my career as a photographer, writer and educator. In my early 20′s, I can remember walking the trade show floor and being amazed by the large, detailed prints on the walls, as well as the incredible photo and lighting gear as far as the eye could see. Many of the seminars I attended over the years helped me to prepare for my seminar talks related to printing, Photoshop and Lightroom at the Expo in 2008 and 2011.
These days, my favorite things to explore at the show are the booths that showcase different prints (inkjet or lab-produced prints). I always find a new paper, canvas or other material that blows me away. I also always enjoy seeing the many book options from many different companies (from oversize wedding albums to DIY (Do it Yourself) books). The exhibitions from different photo competitions throughout the show are another high point. Here's an article I wrote from the 2009 show to give you a sense of some of the items I've highlighted in the past, and here is an article that I wrote covering 10 tips for navigating the show. All that being said, I think that the best part of the show is reconnecting with friends from the past and meeting new people from around the world–especially those whose work I've seen or whose articles/blog posts/Facebook posts I've read.
Below is a screen shot with an overview of some of the special events happening during the show (I'm looking forward to attending many of them). For more information about the special events, see this press release. And to register for seminars, special events or just for the trade show floor (registration is free for the trade show floor until 10/24), visit this page.
This year, I'll be posting my thoughts and sharing photos from the show floor on Facebook and Twitter. You can keep updated by "Liking" my page here and/or by following me on Twitter here.
I woke up this morning, posted something to my Facebook Business Page, and was happily surprised. After expressing my thoughts on Facebook and some blogs about a little blue box that would "hide" recent content on my Page (see screen shot below), all of my recent posts and images that I now see on my Page are lining up nicely, and all older stories are loading nicely as I scroll down the page. Hooray! This is just my observation and your milage may vary. However, I checked a few other Business Pages and they appear to have the same updates and functionality.
This is a screen shot of my original post that expressed my thoughts on the old Facebook Page format:
This is important to me (and I would guess many others), because it was so easy to just skip over that little blue box, thus missing out on many stories, links, etc. from the recent past. In essence, the old approach made me feel as though I was wasting my time sharing information about which I was passionate.
Thanks Facebook. I'd like to think I was part of this decision, but it really doesn't matter who gets credit for it (maybe Mark Zuckerberg has me on his "must read list.") This may just inspire me to upgrade my personal page to the Timeline format. But wait, I may not have a choice, as per this Techcrunch article.
If you'd like to see what I'm seeing now on Facebook Fan/Business pages, feel free to visit my Page. My Facebook Photo and Printing Tips Page has over 1000 posts on the topics of Photo and Printing Tips, links to images that impress me, photos from events I attend, and more. You can find it here: http://facebook.com/andrewdarlow.
And if you'd like to receive 12 tips from my book, 301 Inkjet Tips and Techniques over the next 12 weeks, plus updates and information about workshops, exhibitions and more, sign up to receive my free newsletter below:

Posted on August 1, 2012 by Andrew | Filed Under ART, DIGITAL CAMERA, DIGITAL PRINTING, INKJET RELATED, MACINTOSH, MICROSOFT, NEWS, PHOTOGRAPHY, PHOTOSHOP, SOFTWARE, TIPS, Tips: Photoshop, Tutorial
After nearly 20 years of teaching, I've found that one-on-one training is almost always the best way to learn how to get the most from an application or printer. If you own an inkjet printer and want to get a better screen-to-print match using Lightroom and/or Photoshop, or if you'd like to learn how to get better prints from a professional photo lab or "Atelier" (a term often used to describe a company that produces fine-art prints on a high-end level for artists), this one-on-one private consulting opportunity may be perfect for you.
On Saturday, July 21, my friend, Jim Roselli and I will be conducting one-on-one private consulting sessions at ARTISTICEfex Studio in Hillsborough, NJ. We are also doing one-on-one private DSLR training sessions in the evening in Princeton, NJ, which should be a lot of fun (especially since the weather forecast looks perfect).
Jim Roselli will be working with clients who want to explore large-scale printing with the Epson Stylus Pro 9900, and I'll be working with people who want to make prints on an Epson Stylus Pro 3880. We're both "Lightroom Geeks," so either of us can help you to understand the workflow from beginning to end. For more information or to register for a session (there are only six private sessions available during the day and four in the evening), please visit this page:
http://darlowroselli721.eventbrite.com/
If you are interested in working with me but are unable to attend any of the live sessions in Hillsborough, NJ, I'm also available for private instruction in your home, studio, via phone, or via remote desktop (with your permission, I can view your screen). All ImagingBuffet.com readers who mention that they read this post can take $50 off the first hour of consulting if reserved by 8/1/2012 and completed by 12/1/2012. To reserve a session, please send a note to me via this page, and if you have any questions about the upcoming sessions, feel free to contact me via my cell phone at 732-742-0123, or via this page.
Posted on July 18, 2012 by Andrew | Filed Under ART, DIGITAL CAMERA, DIGITAL PRINTING, INKJET RELATED, MACINTOSH, NEWS, PHOTOGRAPHY, PHOTOSHOP, SOFTWARE, TIPS, WINDOWS, WORKSHOPS/CONFERENCES
A few months back I was sent Issue 7 (Spring 2012) of c't Digital Photography magazine to review. The magazine's tagline is "The in-depth quarterly for the photo enthusiast," and I wholeheartedly agree. It's a very in-depth magazine that reads almost like a series of well-written and illustrated "mini books" by people who truly know and take time to research the topics they cover. The magazine is published quarterly by Rocky Nook and is available in print form, as well as via an iPad app and Zinio.com.
Below are just a few of the topics that are covered in detail in Issue 7 with some of my comments below in quotes. You can see a full overview of the issue (and all of the issues printed to date) on the company's website at http://www.ct-digiphoto.com, or in its entirety in low-res prior to purchase via its iPad app or on Zinio.com:
Portfolio: Martin Stranka: "An outstanding body of work by Martin Stranka, and a great Q&A with the artist."
The Making of Times Square by Bert Monroy: "I had a chance to see the 300 inch wide (7.62 meters) Times Square backlit print at PhotoPlus Expo in NYC in 2010 that took Bert Monroy four years to produce. It was output on an Epson Stylus Pro 9900 and Epson's DisplayTrans film. Jaw-dropping is the description I would use for the amount of detail and clarity in the image, not to mention the scale of the piece. Many short video tutorials by Bert Monroy, showing examples of how different sections came together are also on the issue's DVD."
Gigapixel Images: "Just an incredible overview of gigapixel photography, from double-page spreads of amazing imagery, to techniques and equipment (some affordable, and some costing as much as a car!)"
Your iPad Assistant: "A very-well written overview of a very complex topic. I've used an iPad as a wireless "Polaroid" and it is amazing once you have the right SD card or other wireless transfer solution, once all the right apps are downloaded, and once all the settings are properly set on the iPad."
Pseudo DRI and Pseudo HDR: "Another incredible article that digs deep into a complex topic. I was truly amazed at how much information was included on how to get amazing detail from a single exposure. Shooting tips and specific step-by-step tutorials for the Photomatix Lightroom Plug-in and tips for using Adobe Photoshop's CS5/CS6′s HDR tool were also covered. They even included some presets for Photomatix on the DVD, which will be welcomed by anyone who owns the application."
Light Art Performance Photography (LAPP): "This was over-the-top amazing. If you've ever wondered how people create spheres of light or other amazing effects with light on film or by using digital cameras, Joerg Miedza and JanLeonardo Woellert, co-authors of the book "Painting with Light" go into detail about how it's done, including specific information about what lights work particularly well, and how to build a "Performance Stick." Also, the imagery in the book and in the e-book is stunning; even if you have no interest in learning the techniques, you should take a look at the images."
System Camera Test: "I'm sure that this in-depth review of high-end and mid-range mirrorless cameras took a lot of time and effort (when you see the charts full of specs you'll see what I mean!). I think they did a fantastic job testing these five cameras: The Nikon 1 V1, Olympus PEN E-P3, Nikon Coolpix P7100, Sony SLT-A77V and the Sony NEX 5N."
Free RAW Processing with RawTherapee: "This was an impressive overview and tutorial of a free piece of software for converting RAW images."
The Lightroom Workflow: "An excellent guide to getting started in Adobe Photoshop Lightroom, with many tips for importing, organizing, developing, exporting and presenting your images. Lightroom 3 is used since that was the shipping version when it was written, but the vast majority of the information will pertain to Lightroom 4."
I found something of interest in every article, and thought that the e-book alone that is on the enclosed DVD for Issue 7 entitled Painting with Light (Rocky Nook, 2011) was worth the $14.99 cover price (US/CAN) or $9.99 per issue for the iPad version. The DVD download for each specific issue is also provided when you purchase the specific issues via the magazine's iPad edition, and according to the information on Zinio.com, "As of Issue 8, the free DVD supplied with the print edition is available for download to purchasers of the Zinio edition."
I highly recommend c't Digital Photography magazine and will be subscribing soon (probably to the Zinio edition, but the printed edition looked so good that I might go for the ink on paper option instead). Decisions, decisions…
Posted on July 9, 2012 by Andrew | Filed Under APPLE COMPUTER, ART, Book Review, DIGITAL CAMERA, DIGITAL PRINTING, MACINTOSH, MICROSOFT, NEW MEDIA, NEWS, PHOTOGRAPHY, PHOTOSHOP, REVIEWS, SOFTWARE, TIPS, Tips: Photoshop, Tutorial, WINDOWS
I recently sent out my "Top Five" Newsletter for June, 2012 and thought to myself: "Self, why not share the content with readers of imagingbuffet.com?"
But many people who receive the newsletter also receive my blog updates via e-mail, so I'm adding a quick, but very powerful tip for Lightroom users. The tip is…
How to quickly increase and decrease thumbnail sizes in the Library Module of Lightroom without using the slider in the toolbar
Here's how: Most people use the slider in the bottom-right corner of the Toolbar (circled in blue, above) to adjust thumbnail sizes. However, there's an easier way to achieve the same result. When you are in the Library Module in Lightroom 1, 2, 3 or 4, just press the "-" or "=" key (located in the upper-right hand part of your keyboard, next to the "0″ number key). You will then magically see the thumbnails get larger "= key" or smaller "- key." It took me more than a year of using Lightroom to discover this.
It's especially useful when rating and viewing groups of images since you can hide the toolbar and get more room (press the T key to hide/show the toolbar).
And now for the "Top Five" recent newsletter content, which includes links to recent articles I've written, as well as some upcoming workshops I'm conducting in NJ, and that others are conducting in NY. If you'd like to receive the newsletter, published about once per month, you can sign up at the bottom of the page, or just send an e-mail to inkjettips01@aweber.com:
"Top 5 List of Photo Links Worth a Look," for June 2012
by Andrew Darlow
#5: Getting Started in Lightroom Workshop in Iselin, New Jersey – June 20th from 10:30am-3:30pm, plus a special 50% off private consulting offer.
I'm very excited to announce an upcoming five hour Lightroom workshop being held at a very nice restaurant in Iselin, NJ on Wed. June 20, 2012. It is geared primarily toward those just starting out with Lightroom, but I think it's ideal for even some intermediate to advanced users primarily because I will also cover, in a step-by-step fashion, the process that I've developed to download, organize, import and back up your images so that you'll never see another question mark in your catalog again (and if you do, you'll know how to fix it!).
Many of my clients have invested $500-1500 for me to work with them one-on-one to help them organize their collections and to teach them the tips that I will be sharing. The first 12 people to register will receive a $20 discount, as well as a 20 minute follow-up phone consultation with me (a $50 value). 
For those who are interested in the workshop but who can't attend, I also added a ticket option for 50% off of your first hour of consulting with me via phone. I can also view your screen and control your mouse with your permission. The experience is almost as good as working together in person.
For more information or to register, visit the workshop page here.
#4:

Recent Article with three Q&A's on Lightroom in Rangefinder Magazine
I recently wrote an article covering 3 Q & A's from my Lightroom Printing workshop at #WPPI 2012 in Las Vegas back in February. In one of the Q&A's I go into great detail about how to make PDFs from the Print Module.
Visit this page to read the article.
#3: Article on Keeping Competitive in the Photo Business in Rangefinder Magazine
I recently contributed to an article in Rangefinder Magazine on keeping competitive in the photo business, and one of my photos of a happy pot-bellied pig was used for the story:
Visit this page to read the article.
#2:

Upcoming Long Island Photo Workshops August 6-9, 2012
I just learned about this upcoming four day workshop being held in Hauppaugue, NY. The instructors are all outstanding, and you can choose from courses focusing on everything from fashion to weddings to sports and Lightroom. It's definitely worth a look:
THE LINK to learn more about the Long Island Photo Workshops.
#1: Many New Links Added to My Updated Facebook Fan Page
Since February of 2010, I've been adding links that I find interesting on a frequent basis to my Facebook Fan page (along with some personal comments). I've added over 1000 links so far, and many of the recent ones have covered the topics of Photoshop CS6, Lightroom 4 and new Nikon and Canon cameras. You can see my comments and links here:
THE LINK to visit my Facebook Photo and Printing Tips page.
——————————————————————————-
SIGN UP BELOW FOR FUTURE "TOP FIVE" NEWSLETTERS DELIVERED VIA E-MAIL:
BONUS: Receive a tip a week for 12 weeks from my book, 301 Inkjet Tips and Techniques, plus a Resolution Chart and info to help determine file sizes for printing:

Posted on June 10, 2012 by Andrew | Filed Under ART, DIGITAL CAMERA, MACINTOSH, NEW MEDIA, NEWS, PHOTOGRAPHY, PHOTOSHOP, Press Coverage, REVIEWS, TIPS, Tutorial, WORKSHOPS/CONFERENCES
The New York Photo Festival (NYPH '12) officially starts today in DUMBO, Brooklyn, NYC. I've attended the event a few times over the last four years and have always enjoyed it. The sheer number of exhibitions in the area, live presentations on big and small screens, and opportunities to meet other artists is incredible. Whether you are a collector, aspiring or established fine-art photographer or just someone who just loves to see what people are creating with their imagery, I would recommend visiting. For more information and schedules, visit: http://nyph.at/explore
The powerHouse Arena is always an incredible place to browse books on many topics. In fact, it's worth a trip to DUMBO any time in my opinion.
Here's a link to a short article about a previous NYPH that I've covered.
For more than two years I've been teaching photographers and other artists how to get the most from Adobe Photoshop Lightroom, including editing, organizing, presenting and printing images using the application. It's a very powerful tool, but it definitely takes time to learn, and Lightroom 4 brings with it many new features and a new processing engine.
In the upcoming weeks and months I will be teaching some Lightroom workshops in New Jersey. Here are some details and a link to more info on one of them. I will post information on some others as they get closer (my workshop/events page will generally have all of them listed):
Class Title: LIGHTROOM 4 WORKFLOWS: How to Organize, Retouch and Print Your Images
Location: duCret School of Art, Plainfield, NJ
Date: Sat. April 7, 2012
Time: 10AM-2PM
Fee: $50 ($39 for those who register by April 4)
A full description and online registration information is available here: http://lr47.eventbrite.com/
To show an example of what I'll be covering, this particular image will be shown step-by-step from raw capture to the final edited image. I think it shows what's possible when you use Lightroom's Develop Module to recover highlight data and use the application's selective adjustment options:
Posted on April 2, 2012 by admin | Filed Under APPLE COMPUTER, ART, DIGITAL CAMERA, DIGITAL PRINTING, INKJET RELATED, MACINTOSH, MICROSOFT, NEWS, PHOTOGRAPHY, Press Coverage, TIPS, Tutorial, WINDOWS, WORKSHOPS/CONFERENCES
« go back
—
read previous articles »