Join me at Imaging USA 2020 in Nashville, Plus Some Very Special Offers!
I'm packing my bags for Music City, (a.k.a. Nashville, TN) to attend and speak at Imaging USA 2020. I'm honored and excited to have the opportunity to meet some of the 10,000+ photographers who are expected to attend. According to the show's website, "It's the longest-running photographic conference, trade show, and exhibit in the USA," dating back to 1880–I think that was a bit before the first digital camera!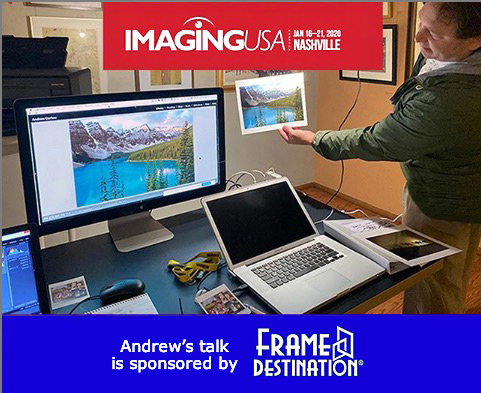 Back to the year 2020, I invite you to join me at Imaging USA 2020, either during my talk in the PRINT for Success Theater (Booth #957) on Sun. 1/19/2020 from 1:00-1:30pm, or at the PhotoFlashDrive.com booth on one of the days and times shown below. I am a customer of PhotoFlashDrive.com and they've been very kind to spend some time in their booth to answer questions and also give away one of my absolute FAVORITE products, their PlayBook Video Player.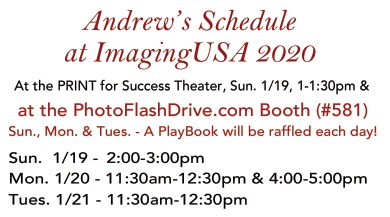 The title of my talk is: Monitor to Print Matching Made Easy, and I'll be covering step-by-step workflows as well as secrets that I've uncovered in my 25+ year career as a professional photographer and consultant. The first 60 people to arrive will receive a GalleryPouch™ bag, two pre-cut mats, and a full-color calibration print (a $20+ combined retail value). I Hope to See You There! To register, visit the show's site HERE.
TWO VERY SPECIAL OFFERS FROM FrameDestination.com
As indicated in the image above, Frame Destination (FrameDestination.com), a Dallas and Internet-based supplier of fine-art photography picture frames and framing supplies, is sponsoring my talk at Imaging USA 2020, and I thank them for their support. I've been a customer of Frame Destination for many years, and I'm happy to announce that a product idea that I brought to them, called the GalleryPouch™, is Celebrating its 10 Year Anniversary! GalleryPouch™ is a custom bubble bag that acts like a pillow of protection for framed artwork and many other uses. Made of smooth, 3/16-inch thick durable polyethylene bubble (smooth on both sides), GalleryPouch™ was created to help you guard artwork against damage during transport or storage. Each bubble wrap sleeve is sealed on three sides, and its opening is available with either a flap or resealable Velcro® brand closure. Frame Destination can create custom sizes for you from envelope size to 52 x 156 inches.
To mark the anniversary, Frame Destination has created some very special offers, including $10,000 in savings and free products! This is a perfect time to stock up or try out a GalleryPouch™. Below are the active codes:

• TAKE $10 OFF any GalleryPouch™ ORDER* (Use CODE: GP10YEARS), or
• TAKE 20% OFF any GalleryPouch™ ORDER* (Use CODE: GPSAVE20)
NO MINIMUM ORDER IS REQUIRED (expires 2/28/20)
(Excludes shipping. For orders to USA addresses only.)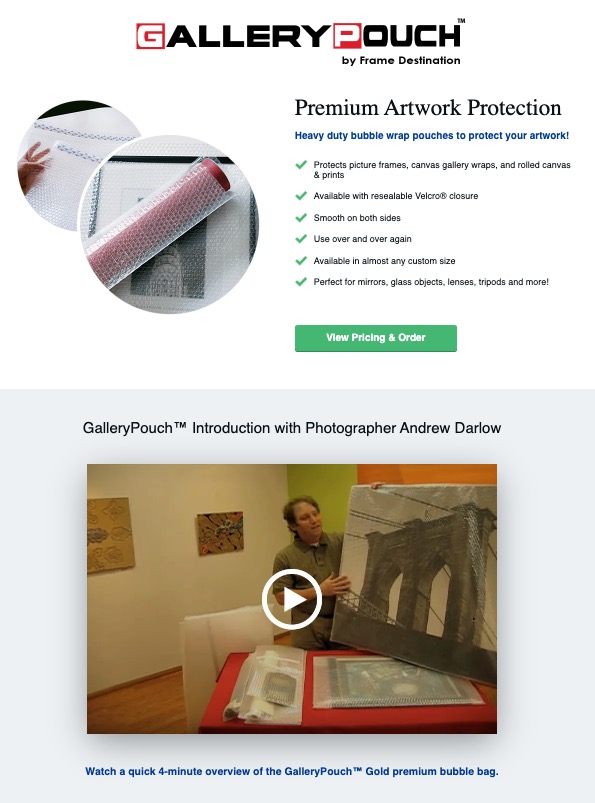 To see a video overview of me demonstrating the GalleryPouch™ bag (shown above), or to order, visit FrameDestination.com.