ANDREW'S NEWEST BOOK, FOCUS & FILTER, IS SHIPPING!
For the last seven years, an amazing bundle of software, e-books and video training has been made available for just 5 Days. It's called The Complete Photography Bundle from 5daydeal.com and this year, it has an estimated value of just under $3000 for just $89 (there are some upgrades with more content that are also available). Last year was the first year I became a partner with the company who puts the bundle together, which means that I receive a commission on sales when I share my referral link to the main page for the bundle.

Here's a quick overview image of the people and companies who are contributing: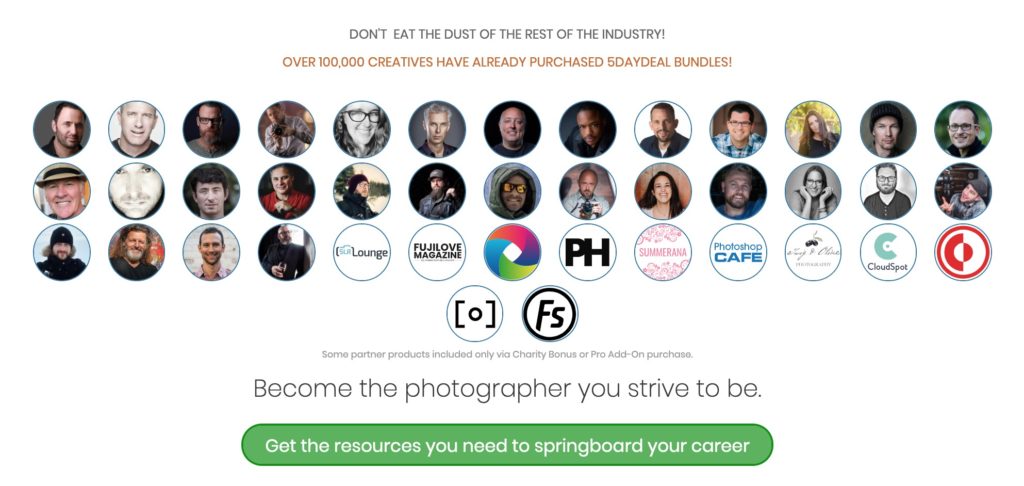 A $10,000 GIVEAWAY AND A FREE APPLICATION FROM SKYLUM SOFTWARE
Because the bundle is so highly discounted (nearly $3,000 in value for just $89), I believe that if you find just one valuable item from the bundle, it will be worth investing it. Whether or not you decide to purchase the bundle, you can enter a $10,000 giveaway that includes a free copy of a piece of software FOR EVERYONE WHO ENTERS from Skylum Software called AirMagic (here's a link to a quick overview video tutorial of the application). Just look for the entry form toward the bottom of the 2019 Bundle Page. It looks like this: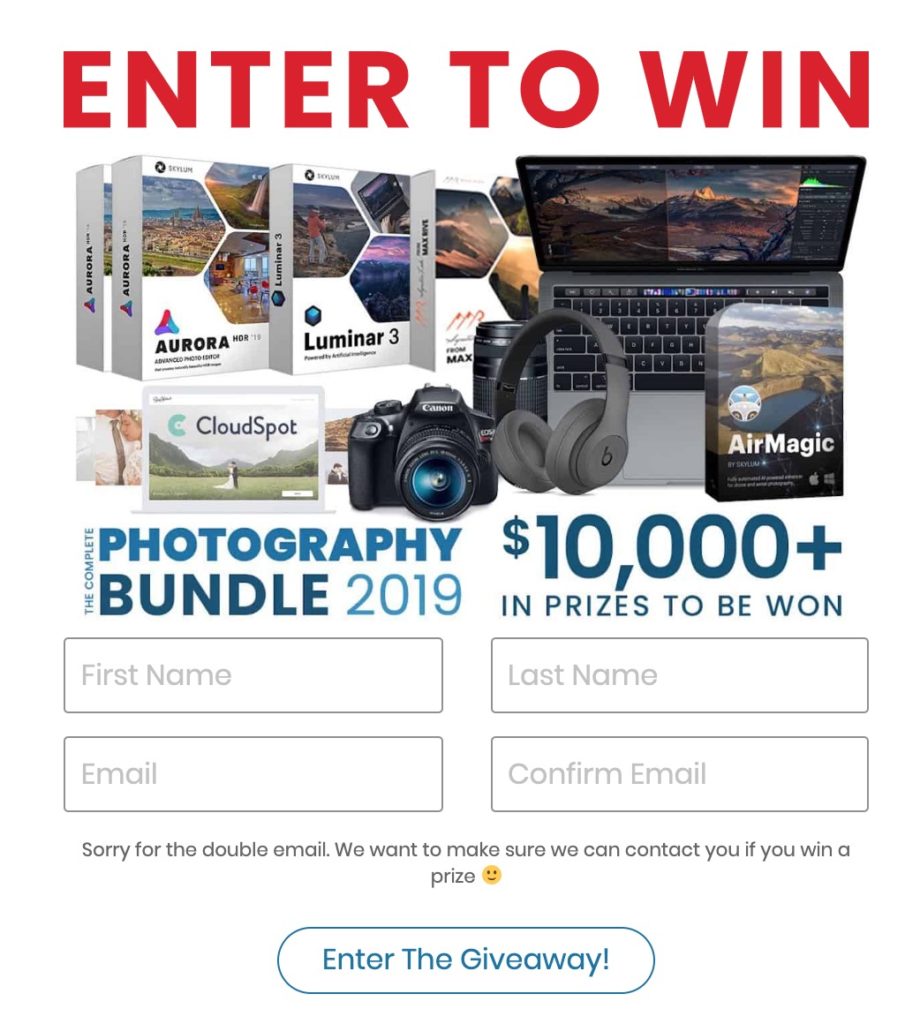 10% of all the proceeds goes to charities (over $1.5 million has been raised thus far), which you can select. I usually choose to give an equal amount to the charities they have selected. About 100,000 people have purchased the bundles over the last seven years, and I've bought at least four of them. In a word, the content is AMAZING! If you'd like to check out what's inside the bundle (and it's A LOT), visit THIS PAGE.
P.S.: I HIGHLY recommend purchasing a dedicated external hard drive (or making some space on a drive you own) for all of the files that you will probably be downloading if you purchase the bundle. That way, you can move the content from computer to computer and not worry about filling up your internal hard drive (if space is an issue on your internal hard drive(s)). You may even want to purchase two relatively small hard drives (512GB or 1TB) so that you can use one as a backup. They can be found for $50-75 each online or in camera stores/office supply stores like Staples.
Again HERE IS THE LINK to the The Complete Photography Bundle VII 2019. Please feel free to contact me HERE with any questions you may have.
All the best!
Andrew
Andrew Darlow
Editor, The Imaging Buffet
Posted on October 3, 2019 by AndrewD | Filed Under Deals/Discounts, DIGITAL CAMERA, DIGITAL PRINTING, MACINTOSH, MICROSOFT, NEWS, PHOTOGRAPHY, PHOTOSHOP, REVIEWS, SOFTWARE, TIPS, Tips: Photoshop, Tutorial
I chose the photo above because it fits in with the topic I'm discussing today. I photographed it with an iPhone 11 Pro using the Panoramic mode. Click on the image to view it about four times larger (I did some perspective correction in Photoshop to straighten the buildings, and boosted the saturation a bit).
WHY I'M RINGING THE ALARM BELLS ABOUT 10.15 CATALINA
There's a new operating system, named macOS Catalina (10.15), coming very soon (potentially as early as October 4, 2019 according to This Article) to millions of Apple Macintosh users with computers that were produced recently enough (or that have sufficient hardware specs) to run it (this Wikipedia article has a list of the specific models). Normally, I would not be sounding any alarm bells about this, but this is a different situation. Many people get into the habit of just clicking on "update" or have their computers set to automatically update to the latest operating system. But I would be very careful about doing that this time. The reason is that macOS Catalina (10.15) will only run 64-bit apps, and there is a VERY GOOD CHANCE that some or many of the apps you have on your Mac are 32-bit apps. Those applications will stop working if you upgrade. 
SO WHAT SHOULD YOU DO?
1. The main thing to do is to not automatically approve the upgrade if you are invited via a pop-up message to do so until you are ready. I personally will be waiting at least a few months on my main machine (maybe even a year or more) to upgrade.
2. The next thing you can do is turn off all automatic updates for your current Operating System. For example, I am on macOS Mojave (10.14), so I went to System Preferences>Software Update (located in the 3rd Row in the default configuration), and made sure that "Automatically keep my Mac up to date" was unchecked. See below for what that screen looks like. I then clicked on the "Advanced" button and kept "check for updates" checked, but unchecked everything else. With all that said, I would set a reminder to see what updates are available for your computer if you turn off the "Install system data files and security updates." Checking that item Will Not update your software to a new operating system like macOS Catalina.
3. If and when you do upgrade, I recommend having two backups of your existing system (a Time Machine backup plus a Clone of your system on an external drive).
WHAT IF YOU ARE NOT RUNNING MOJAVE (10.4)?
If you are not running Mojave (Sierra (10.12) or High Sierra (10.3), for example), it's a bit more complicated. You can find it Software Update under "About this Mac" and then "Software Update". You can also read about how to upgrade (or avoid turning on auto updates) on THIS PAGE.
RELATED ARTICLES & PODCASTS
On a related note, This is An Excellent Article with a comprehensive overview of what's in macOS Catalina, and how many things will be changing on your Mac (bye bye iTunes, for example!).
And I thought you may like to listen to This Episode of Connected, one of my favorite podcasts about all things related to Apple Computer, the Mac and iOS (you can even adjust the speed of the playback). If you'd like to cut to the chase, you can skip to 52:32 (you can move the playhead back and forth near the top of the page) to just listen to the section about macOS Catalina, including their suggestion to install an app called Go64 (You Can Find It Here) that will quickly tell you which of your applications on your Mac are 32 vs 64 bit. There are other items called "Kernel Extensions" that are changing, which is quite geeky, but it's an important change.
If you listen to the beginning of the show, you will hear that the co-founders of the company who produces the podcast (Relay FM) recently helped raise over $300,000 for childhood cancer research by doing a focused fundraising campaign for St. Jude Children's Research Hospital. Relay FM has more than 20 shows, and their hosts and listeners were very generous in their support. I learned that no family has to pay for the treatment that they receive at St. Jude Children's Hospital, and I was a bit shocked to learn that the average treatment for a child with leukemia is about $200,000.
I also learned from doing some online research that in the 1950s, nearly all children with leukemia passed away, but today, the survival rate is about 75% thanks to the work of research hospitals like St. Jude. Here's a link to a six hour "podcast-a-thon" that helped them a lot to reach that goal. They are the same people that you will hear on the podcast and their names are Stephen Hackett and Myke Hurley. Stephen Hackett's son was a patient at St. Jude's and you can read about his family's story HERE. You will also hear a gentleman on the podcast named Federico Viticci, who runs a fantastic site called MacStories.net.
MY 40 DAY EMAIL CHALLENGE IS IN FULL GEAR!
If you are not currently receiving my preferred email news and tips, I welcome you to subscribe HERE. You will instantly receive an e-book with 25 pages from my award-winning photo tips book, Focus & Filter, as well as some Lightroom videos. I'm also in the middle of a 40 Day Challenge in which I've been sharing tips and advice on many topics, including inkjet printing, portrait photography, travel and much more. I hope to see you there!
Whenever a new high-end inkjet printer is released, I am excited to learn more about it and share the news with the world. It's still amazing to me that humans have created machines that can transform an image from a screen into a piece of artwork on a wide range of different media in just a few minutes.
On October 1, 2019, Epson formally announced two new wide-format printers: the 24-inch Epson SureColor P7570 and 44-inch SureColor P9570. I saw quite a few print samples from one of the printers and saw the SureColor P9570 up close at a press briefing a few months ago. I was extremely impressed by the detail, color saturation and especially the increase in density of the black that's possible on semi-gloss and glossy papers using the new print mode described in the feature list below. Prints on matte paper were equally stunning, both in color and monotone.
Some of the features of both printers are as follows:
• A new 2.6″ PrecisionCore® printhead, with speeds up to 2.4 times faster than Epson's previous generation of wide-format printers (that would include the SureColor P7000 and P9000);
• A calibrated LED light inside the area where the head moves back and forth (you can now put your flashlight away!);
• The ability to cover 99 percent of the PANTONE® FORMULA GUIDE solid-coated standard;
• A new print mode called "Black Enhanced Overcoat" that helps create a higher DMAX in the dark areas on semi-gloss, glossy and metallic papers. Here is some text about it from the company's press materials: "Black Enhanced Overcoat delivers improved DMAX for a wider contrast ratio, excellent black density, outstanding clarity, improved sharpness, and reduced gloss differential on glossy and metallic media.";
• 12 ink channels with an updated pigment ink (UltraChrome® PRO12), including a violet ink that helps to expand the color gamut; and wait for it…;
• Dedicated channels for matte and photo black! In other words, there is no need to swap between the black inks to optimize the black ink density on matte and glossy/semi-gloss papers.
The last one is a big deal, and something that I always hope for when a new pigment ink printer is released (from any company). I never like waiting for the switch to happen, and I especially don't like wasting ink (even though it's a relatively small amount).
Estimated pricing of the SureColor P7570 (24-inch-wide) and P9570 (44-inch-wide)  printers will be $4,695 MSRP and $6,595 MSRP, respectfully, and they will start shipping in December of 2019.
To see all the specs for the new printers, including estimated print speeds, and much more, visit THIS PAGE. I was told that the previous generation of wide-format printers will continue to be sold, but I would ask your dealer or contact Epson regarding exactly which models are going to be available for the foreseeable future.
MY 40 DAY EMAIL CHALLENGE IS IN FULL GEAR!
If you are not currently receiving my preferred email news and tips, I welcome you to subscribe HERE. You will instantly receive an e-book with 25 pages from my award-winning photo tips book, Focus & Filter, as well as some Lightroom videos. I'm also in the middle of a 40 Day Challenge in which I've been sharing tips and advice on many topics, including inkjet printing, portrait photography, travel and much more. I hope to see you there!
GRAB THIS BUNDLE AT 96% OFF BEFORE IT ENDS ON 10/8 at NOON PST!
For the last four years or so I've purchased this bundle, and for the last two years I've been a partner because I believe so much in what the folks at 5 Day Deal do each year. You can save up to 96% on the Photography Bundle 2019 while helping raise hundreds of thousands for charity. The bundle is just $89 for over $2800 in video tutorials, eBooks and digital tools and much more. The opportunity to pick up this bundle ENDS TODAY (NOON PST Tues 10/8). Also Included: Skylum's AURORA HDR 2019 (a $99 value). GRAB THE BUNDLE NOW and Take Your Skills to the NEXT LEVEL!

« go back
—
read previous articles »